Announcing the 2017 PCM Chamber Music Competition Winners
Congratulations to all of this year's participants! Please visit the competition website in the coming weeks for updates, video of the final round performances, photos from the competition, and information on next year's competition.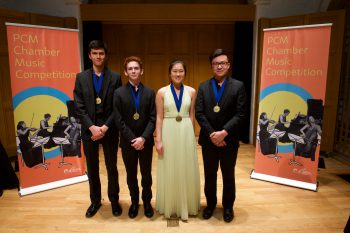 We are proud to announce that the Onyx Quartet of The Colburn School has won the gold medal ($5,000) at the first annual PCM Chamber Music Competition. Onyx Quartet members include: Kevin Tsao (violin), Tony Kukavica (violin), Ethan Moffitt (viola), and Shirley Kim (cello).
The silver medal ($3,500) was awarded to Encore Trio of Junior Chamber Music. Encore Trio members include: Hannah Kim (violin), Sedong Hwang (cello), and Jocelyn Chen (piano).
The bronze medal ($2,000) was awarded to Fuoco String Quartet of the Pasadena Conservatory of Music. Fuoco String Quartet members include: Natalie Boberg (violin), Amy Sze (violin), Andy Park (viola), Claire Park (cello).
The Andrew Cook Beethoven prize ($500) was awarded to Pristine Trio of The Julliard School Pre-College Division. Pristine Trio members include: Qing Yu Chen (violin), Max Bobby (cello), and Youlan Ji (piano).