Adult Studies
Come be a part of the adult studies community at the Pasadena Conservatory of Music.
In addition to individual instruction on all instruments, PCM has a vibrant and growing slate of group classes, ensembles, and music history and appreciation offerings for adults.
Individual Instruction
Group Lessons & Ensembles
Music History & Appreciation
Click on individual departments below or call the PCM office at 626.683.3355 for more information.
Ensemble Offerings
PCM offers a number of opportunities to perform with other musicians. Please call 626.683.3355 for more information.
Ukulele
August 31 – November 16, 2022
Wednesdays: 6:30 – 8:00 pm
Instructor: Crystal Peralta
Tuition: $192
All are welcome to join the introductory course to ukulele! With classics from Broadway to favorite jazz standards, students learn the basics to be able to perform these timeless tunes.
August 30 – November 17, 2022
Tuesdays: 6:30 – 8:00 pm or Thursdays: 1:00 – 2:30 pm
Instructor: Crystal Peralta
Tuition: $192
Students continue their exploration of the American Songbook for ukulele. With classics from Broadway to jazz standards, students learn the mechanics behind these songs and how to perform them live. Ukulele players experiment with song arranging and learn the musical terminology needed to communicate with fellow musicians.
Voice
September 22 – November 17, 2022
Thursdays: 1:00 – 2:30 pm
Instructor: Joshua Tan
Tuition: $144
Are you looking for the perfect opportunity to share your voice with others? If so, the Glee Club is the group for you! Whether you are looking to begin singing for the first time or already have lots of experience as a choir member, this is your chance to explore vocal technique and music theory through quality choral repertoire. Glee Club members will learn about proper vocal health, choir etiquette, and how to read music through the study of solfeggio and ear training. Most of all, we will have FUN doing it! The club will venture through various genres of choral repertoire including classical, contemporary, jazz, and musical theater. Come one, come all to experience the happiness one gets from singing in a choir!
Recorder
September 1 – November 17, 2022
Thursdays: 9:30 – 11:00 am
Instructor: Rachael Doudrick
Tuition: $192
Students play soprano, alto, and tenor recorders in small consorts, with an emphasis on individual musicianship within the ensemble. Students explore music written and arranged specifically for the recorder, from early music of the Renaissance and Baroque to contemporary arrangements of popular music.
Chamber Music
Schedule TBD*
Instructor: Erika Walczak
Tuition: $450
Students will develop ensemble chops while learning just enough about music theory, history, ear training and healthy practice habits to support their journey as a whole musician.
*Meeting times to be determined by the participants and instructor.
Schedule TBD*
Instructor: Barbara Mullens-Geier
Tuition: $300
Students in the adult flute ensemble will have the opportunity to sight read, develop better listening skills, improve rhythmic accuracy, and learn and perform ensemble repertoire.
*Meeting times to be determined by the participants and instructor.
August 30 – November 16, 2022
Wednesdays: 7:00 – 8:00 pm
Instructor: Bryan Fasola
Tuition: $300
This is a performance-oriented ensemble for adult amateurs. The ensemble studies and performs original and arranged works for guitar orchestra, with two to four instruments per part, and is led by a conductor. Admittance is by audition.
Jazz Combos
September 3 – November 19, 2022
Saturdays: 12:00 – 1:30 pm
Instructor: Sherry Luchette
Tuition: $450
Students learn to play jazz and blues standards in an ensemble setting. Through guided listening, students learn about melody, arrangements, chords, scales, and jazz improvisation.
Accordion
June 18 – August 6
Saturdays: 1:30 – 2:30 pm
Instructor: Sharon Weed
Tuition: $200
In this intergenerational class, students learn accordion basics, techniques, and simple tunes.
Age 12 to adult. Students must bring their own accordion.
World Music
About Zoom and PCM Tech Support
Zoom is an easy-to-use video conferencing platform that allows "face-to-face" meetings and classes from the comfort of your home. At PCM, we have dedicated staff members that can help you get set up for the class via phone or email. If you'd like tech support please reach out to the front office at 626.683.3355 or music@pasadenaconservatory.org.
Fall Theory & History Courses
Student Voices
Julia Langer
cello student (2 years), retired
When I retired, I moved to Pasadena and my son said, "Mom, if you would learn to play the cello, we could have a string quartet!" My three granddaughters were taking violin and viola lessons at PCM, so I was already impressed with the quality of PCM's programming and instructors. In December 2012, I began cello lessons. While studying music has its own intrinsic rewards, my cello studies have opened up a whole new arena of student experiences to share with my granddaughters. I strive to be a good "music student" model for them; and they, in turn, become my teachers from time to time. I have also discovered that one is never too old to begin a completely new challenge.
Ralph Miles
with faculty member Elizabeth Babor
I think PCM is an organization that Pasadena needs. It makes a difference. I love my weekly piano lessons and want to help make sure the Conservatory can serve our community well into the future.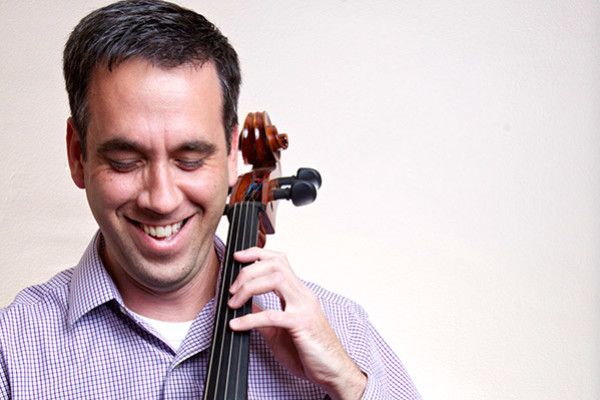 Eric Chadwick
cello student (4.5 years), Partner/Portfolio Manager at Flaherty & Crumrine Incorporated
Cello has been the next chapter of music for me, having focused mostly on vocal studies in my high school and college years. While I decided to learn cello for my own development and enjoyment, the highlight has been sharing in my son's journey in learning the cello at the same time. He has studied from a young age, but now we often practice and learn together. We have both advanced to the point where we can enjoy cello duets and trios with our instructor, in addition to our solo repertoire.