Adult Studies
Come be a part of the adult studies community at the Pasadena Conservatory of Music.
In addition to individual instruction on all instruments, PCM has a vibrant and growing slate of group classes, ensembles, and music history and appreciation offerings for adults.
Individual Instruction
Group Lessons & Ensembles
Music History & Appreciation
Click on individual departments below or call the PCM office at 626.683.3355 for more information.
Ensemble Offerings
PCM offers a number of opportunities to perform with other musicians. Please call 626.683.3355 for more information.
Ukulele
Vocal
Recorder
Chamber Music
Jazz Combos
Winter History & Theory Courses
January 3 - March 11, 2022 (10 weeks)
Mondays, 1:00 – 2:00 pm
Instructor: Dimitris Dodoras
Tuition: $225
In this course, we'll examine how music sets the tone for some of the most iconic scenes in film history. Students will also analyze how composers techniques and instrumentation contribute to these powerful and memorable movie moments.
Tuesdays, 9:00-11:00 am
Instructor: Dr. Sarkis Baltaian
Tuition: $300
This class examines and explores performance styles and characteristics of some of the greatest pianists of the past. The body of work of such pianists as Liszt, Rachmaninoff, Schnabel, Cortot, Rubinstein, Gould, Horowitz, Arrau, Richter and Sokolov is studied through analysis of recordings.
Winter Quarter: Antheil, Seeger, Nancarrow, Partch, Harrison, Johnston, and American Minimalists
Thursdays, 9:00-11:00 am
Instructor: Dr. Nic Gerpe
Tuition: $300
In our first Quarter, we studied two innovators who were largely responsible for the creation of an "American Sound" in Contemporary Music: Charles Ives and Aaron Copland. In the winter installment of the Mavericks series, we will study composers who took the idea of "innovation" to new extremes: Henry Cowell, John Cage, Conlon Nancarrow, Lou Harrison, and Harry Partch. We will explore mind and ear-bending music which uses conventional instruments in highly unconventional ways, alternate tuning systems, home-made instruments, silence, gamelan, and questions the very definition of music as we know it.
Fridays, 1:00-3:00 pm
Instructor: Dr. Ray Briggs
Tuition: $300
Though American popular music is commonly neatly packaged, categorized, and presented to the masses, there are artists who do not fit into such a paradigm. Stylistic headings like jazz, swing, crooning, and pop fail to convey the complexities of such individuals. This course will examine the multi-faceted talents of Sammy Davis, Jr., a.k.a. "Mr. Wonderful" (1925-1990) and Mel Tormé, a.k.a. "The Velvet Fog" (1925-1999), two artists who were contemporaries of one another. Both men garnered numerous accolades as child prodigies, developed skills as instrumentalists and vocalists, rose to the level of pop icons, but interestingly had very different career paths and life experiences. The class will highlight the musical output of the two as well as provide some social and cultural contextualization to foster a richer understanding of the men and their music.
Tuesdays, 1:00-2:00 pm
Instructor: Dr. Kathryn Eames
Tuition: $150
Using The Royal Conservatory curriculum and materials, adult students will refresh their knowledge and expand their horizons through sequenced instruction in music theory. This enlivening and enlightening course is for beginners through intermediate singers and players, and will include the opportunity to discuss the way that music theory "works" on one's instrument of study. The Royal Conservatory Prep book is required ($17.95).
Student Voices
Julia Langer
cello student (2 years), retired
When I retired, I moved to Pasadena and my son said, "Mom, if you would learn to play the cello, we could have a string quartet!" My three granddaughters were taking violin and viola lessons at PCM, so I was already impressed with the quality of PCM's programming and instructors. In December 2012, I began cello lessons. While studying music has its own intrinsic rewards, my cello studies have opened up a whole new arena of student experiences to share with my granddaughters. I strive to be a good "music student" model for them; and they, in turn, become my teachers from time to time. I have also discovered that one is never too old to begin a completely new challenge.
Ralph Miles
with faculty member Elizabeth Babor
I think PCM is an organization that Pasadena needs. It makes a difference. I love my weekly piano lessons and want to help make sure the Conservatory can serve our community well into the future.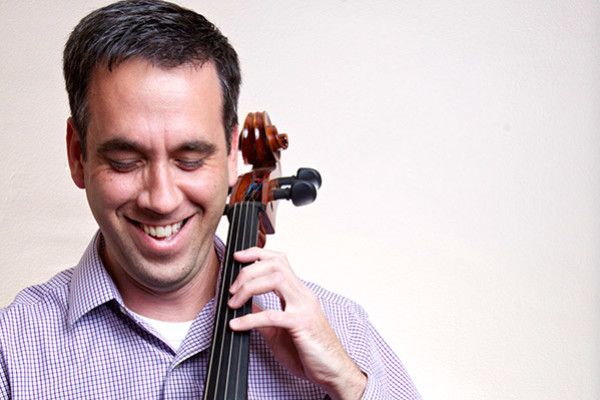 Eric Chadwick
cello student (4.5 years), Partner/Portfolio Manager at Flaherty & Crumrine Incorporated
Cello has been the next chapter of music for me, having focused mostly on vocal studies in my high school and college years. While I decided to learn cello for my own development and enjoyment, the highlight has been sharing in my son's journey in learning the cello at the same time. He has studied from a young age, but now we often practice and learn together. We have both advanced to the point where we can enjoy cello duets and trios with our instructor, in addition to our solo repertoire.