The Piano Shop on the Left Bank | Concert *POSTPONED*
Mansions & Music
Private Home
Address disclosed after ticket purchase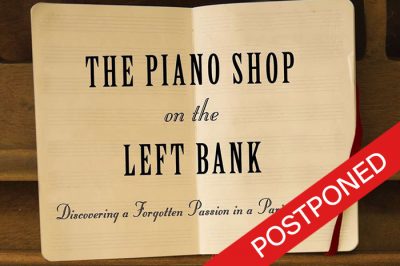 This event has been postponed. Please check back in a few weeks for the new date. If you have any questions, you can call 626-683-3355. Thank you for your understanding!
The Piano Shop on the Left Bank 
by Thad Carhart
An American living in Paris, Thad Carhart discovers a unique piano atelier on the Left Bank that sells refurbished pianos. Over time he befriends the reserved and quirky owner, as well as many locals with a passion for the piano. Carhart discovers it is not only the people who have fascinating and varied personalities, but also the pianos themselves.
Accompany PCM piano faculty as they tell the story of a piano's fictional journey from Vienna to Paris and on to New York and Los Angeles. For a closer look into this program, you can attend our Prelude on April 15 in Barrett Hall at PCM.
PART 1 | Vienna, 1900-1920
MOZART: Fantasy in c minor, K. 475
SCHOENBERG: Sechs kleine Klavierstücke, Op. 19
PART 2 | Paris, 1920-1945
Composers TBD: Variations on a theme of Diabelli
CHOPIN: Polonaise Op. 53, "Heroic"
DEBUSSY: 3 preludes (TBD)
PART 3 | America: New York and Los Angeles, 1945-present
GERSHWIN: 3 preludes
STRAVINSKY: Le sacre du Printemps (piano 4-hands, excerpts)
Click here for more information about this season's M&M concerts and the selected books.
Program and performers subject to change.