Lily Walker is 11 years old and the daughter of PCM faculty member Melissa Frey. She has studied music at PCM since 2014 when she joined the YM program. She now studies piano with Dr. Kathryn Eames and french horn with Danielle Ondarza. Lily recently shared more about her musical interests and her time at PCM.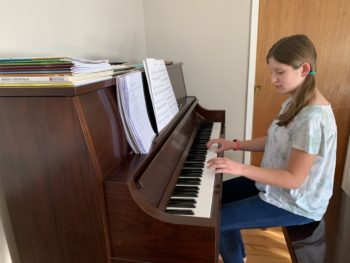 PCM: You first enrolled in PCM's Young Musicians program when you were four, and then started taking piano with Dr. Kathryn Eames when you were six. What made you want to start playing piano and what do you like most about it?
LW: I wanted to start taking piano because of how much music is in my family. My mom plays the bassoon and my dad plays the saxophone so I have grown up always hearing some type of music ringing through the house. I knew I one day wanted to play an instrument, so I thought piano was the best place to start. I think the part I like most about playing the piano is being able to give people feelings they might not normally experience. Whether it is playing mournful blues tunes, to dramatic classical, from upbeat pop to swinging jazz, you give people experiences and emotions through the playing. Each note is like sharing a small piece of yourself with the audience, drifting through the air with every beat.
PCM: You then started learning French horn with Danielle Ondarza just a few years later in 2019. What made you want to learn a second instrument and how has that been going during the shutdown? What made you pick French horn?
LW: I wanted to learn a second instrument because I really wanted to participate in our school orchestra. I thought it would be a really fun experience with my friends, but I could not play piano in it unless I was really advanced. I did not want to drop piano, so I decided to try out another instrument. Learning French Horn has been going really well during the shutdown. I look forward to both my lessons with Mrs. Danielle, and my piano lessons with Mrs. Katie. I picked french horn because when we first had an orchestra assembly at school, they demonstrated how to play each instrument. As soon as I heard the French Horn, I instantly fell in love. It sounded pure and sweet, like a fresh breeze on a warm summer day, and sounded like no other instrument I had ever heard.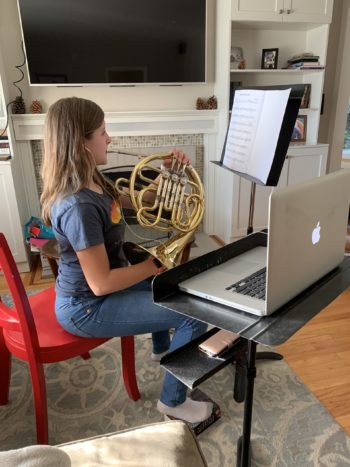 PCM: Do you enjoy playing one instrument over the other?
LW: It is really hard to choose what instrument I would like over the other, but I think I am going to have to say french horn.
PCM: Who is your favorite musician and what do you like about them?
LW: My favorite musician is Martha Mier because I really enjoy playing jazz on the piano. She wrote the pieces in the first jazz book I ever played from, "Jazz, Rags, and Blues". I really enjoyed playing the one titled "Don't Wanna' Leave You Blues", and many other ones like "A Neat Beat", and "Hallelujah".
PCM: Do you have any favorite hobbies right now? If so, what are they and what inspired you to take those up?
LW: I have several hobbies right now including tap dancing, writing poetry, and taking acting lessons. I was inspired to take up tap dancing because of how much rhythm is involved in the dancing. It takes a little while to get good at it at first, but now I know so many moves, each with its own unique rhythm. I wanted to start writing poetry because I like how there are really no rules in free-form poetry, and you can use the words to create change in the world for the better.
PCM: What is your favorite memory at PCM?
LW: My favorite memory at PCM was going to my little sister Faith's young musicians class because I liked to remember how much fun I had when I went. I loved seeing how much she enjoyed it, and we made many unforgettable memories in that class together.