Faculty Profiles | Ray Briggs
Ray Briggs began at PCM in 2011 chairing the newly formed Jazz Department. He teaches music history courses for adults and now teens. Ray is also an Associate Professor of Music and Assistant Director of Jazz Studies at California State University, Long Beach, where he coordinates the jazz combo program and teaches courses in jazz history and ethnomusicology.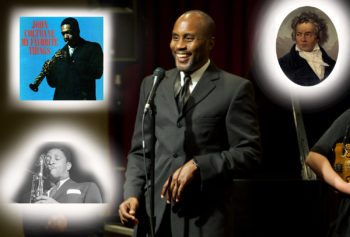 What is your favorite piece, performer, or composer:
RB: Depending upon the day/season my answer could be different! But, among the most moving pieces to me are:
What is your favorite musical word:
RB: While it's not a musical term, I am fascinated by the meaning and realization of the word "kaizen," which is of Japanese origin and translates to "continuous improvement" or "change for the better."
What is something about you that most people don't know:
RB: Although I don't get to do it enough, I really enjoy gardening because I am inspired by observing the processes of germination, development, and growth.
What is your favorite concert you've given or attended:
RB: There are two significant performances that I recall. The first was seeing the incomparable Sonny Rollins in concert while I was still in high school. This was such a profound experience because I was getting deeper into studying jazz and idolized Rollins as an unparalleled improvisor, had saved my own money for the ticket, and it was a midnight show which gave it a kind of authentic edginess! The second memorable experience was hearing the LA Philharmonic playing Beethoven's 9th Symphony in Dorothy Chandler Pavilion (Walt Disney Concert Hall wasn't yet built). This remains a fond memory because, well…it's Beethoven and it was my first concert in LA after moving west from my hometown of Memphis, TN.
What do you like most about teaching:
RB: Having the opportunity to explore the limitless boundaries of music and humanity through sharing and receiving knowledge in a community of kindred spirits.