Faculty Voices | Megan Shung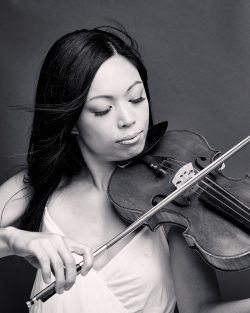 Megan Shung is the Suzuki violin/viola program coordinator at PCM. She is also a founding member of Iridas, an electro-chamber ensemble, whose goal is to create and encourage a meaningful hybridization of modern classical music and popular music. She writes music and also performs regularly as the concertmaster of the Lake Avenue Chamber Orchestra. Ms. Shung graduated with a Bachelor of Music (violin performance) from the Cleveland Institute of Music, and also received her long-term Suzuki training with Kimberly Meier-Sims.
Hi Megan! How did you get started in Music?
I started playing piano at 3. My mom was a piano teacher. I actually don't remember a time when I didn't play music.
When did you shift from piano to violin?
In 4th grade I saw a friend playing viola and I was curious about what it would sound like if you put the bow behind the bridge, but I was too embarrassed to ask and I didn't know quite how to describe it, so I told my mom I wanted to play violin, literally just to figure out what that would sound like.
She reluctantly agreed to let me play it, but made me sign a contract that said she didn't force me to play violin and that I promise to practice for the rest of my life. I'm still locked into that contract!
This was in Taiwan?
Yes. I was born in Houston, but grew up in Taiwan and then moved to Los Angeles when I was 11.
When I moved to LA, I was actually playing the Chinese violin – the erhu – but no one really knew what that was here and there was no orchestra part for it, so that's when I started playing the violin in earnest.
You recently played the erhu at PCM at the Wu Man concert, right?
Haha. Yeah, I brought it back for that. I took 4 lessons from a woman in Chinatown to brush up and then played it on stage with Wu Man!
When do you think you got serious about music / started thinking that this would be your career?
I grew up in a society where everything is sort of set. When I was a kid, I was artistic and was basically told that I wasn't going to make it in anything but the arts. So I took a lot of music, drawing, and theater classes, and from a pretty young age knew that I was going to have some sort of career in music or the arts, but I don't think I really chose it or took ownership of it until after college.
You went to school for violin, right?
I started out as a double major at the Cleveland Institute of Music, which was attached to Case Western. I was a pre-med and violin performance major, but eventually chose to focus on the violin. I paid my way through school with loans, work study, and I had a gigging business. So once I earned my bachelor degree I was ready to start my career.
I was also around all of these amazing musicians and was part of a music scene that I became really passionate about. I was also meeting a lot of different, super talented people like David Binney, Katisse Buckingham, and Billy Childs and was just really inspired. In fact, I'm playing in (pianist-composer, 5-time Grammy® Award-winner) Billy Childs' Jazz and Chamber Ensemble at the Blue Whale in downtown LA on December 30.
That's amazing! And you are starting to have a bit of an international performing career, right? You just got back from a tour in China?
Yes! I had two tours this year. One smaller tour in Taiwan, in March, which was just me. And another in October with Iridas, in China.
How'd they go?
Great! In Taiwan I played three shows, did an improv workshop, and taught for two days at the Taipei American School. The Iridas tour was all across China – 20 shows in 5 weeks.
Wow! How was all that travel?
A little rough! Sometimes we'd travel on the same day we played and our sound checks are long because of the amount of tech in our show. The concerts typically started at 7:30 and ended around 10:00, so we were usually at the venue from around 1:30 or 2:00 until 10:00. Then we'd have 6:00 a.m. calls where we'd need to get on a plane or bullet train… most of the time that we weren't playing, we were trying to sleep or get food.
I speak Mandarin fluently so I got pretty good at running the sound check and we got into a system where we'd get to the venue and the guys would work with a translator to set up the tables and pianos and I would rest; then when they were done I'd run the sound check for an hour and a half with the sound guy and they would rest. But the shows went great and were really well attended and it was such a learning experience for me – being able to play the same rep. twenty times… everything from Brahms to Chick Corea and figuring out how to balance all of that technique and precision vs improvisation and creativity, all while interacting with the audience…
How do you juggle teaching and performing?
On that tour I would WeChat Brandon (Encinas) at PCM and make sure everything was going okay – I'd literally watch facebook live videos of group classes!
I love both teaching and performing so you find a balance. Sometimes if I'm performing a lot, I feel like I need to balance it out with teaching to help me decompress and feel better. Teaching is one of the reasons I want to gain all of these different experiences – so that I have something unique to share with my students.